Recently, I saw a
simple
and
easy
bread recipe in
Alex Goh's World of Bread
recipe book. If you have been reading my posts, you should know by now that I could not resist recipes that are said to be
simple
and
easy
.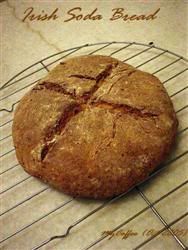 The
Irish Soda Bread
recipe here does not use any yeast nor does it require any proofing. In fact, there is hardly any kneading
(the hardest step in bread-making without the bread machine, in my opinion)
required as the recipe advises against over-mixing the dough. It is almost like an instant bread. I followed the recipe and the only alteration I made was to add whole-wheat bran to it as an effort to make it even healthier (it is also low-fat and low-sugar too).
The bread has a thick and tough crust, just like how European breads usually are. I am surprised to discover that it has a very addictive yummy scent given its simple ingredients. Although the crust is thick, the center is considerably chewy and soft. I am satisfied with just eating it plain. Of course, it is also good with stews.