Today's theme: Something simple and something traditional. In other words, I made
Steamed Mantou
and
Teochew Orr Nee (Steamed Yam Paste with Candied Winter Melon & Gingko Nuts)
today.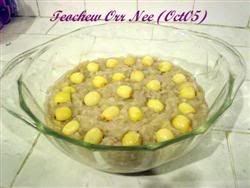 Just a little too sweet with the addition of the very sweet candied winter melon. Otherwise, taste will be just fine. I was also overly generous with the gingko nuts. Also, texture is a little too rough but then this works in providing more 'bite' to the paste.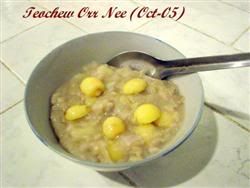 By looking at it, you would not have guessed that they are
Pandan Mantou
. I probably didn't use enough pandan water, the taste was there but not obvious. And if you wonder about the 'odd-shape' in the middle, it came from some leftover bits that I rolled into a rope and twirled around. Not too
off-putting
, I hope.