I was in the mood to bake a simple and down-to-earth but good-tasting cake after seeing
Clotilde's
plain yogurt cake
recipe. A plain and "earthy" cake, it seems to represent simplicity at its best. This cake has a nice crust while the inside remains moist.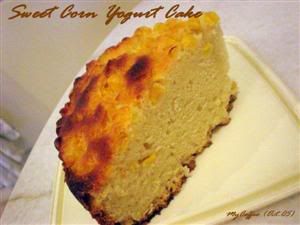 Some adjustments made include:
Using low-fat plain yogurt in the 150ml tub and adding sweet corn kernels (a layer in between dough mixture and also on top of the cake). Also added an additional 1/2 tbsp of rum.