It was a Thursday night and I felt like making something in the kitchen. It was kind of late to bake anything but yet, my hands were "itchy" to make something.
Then I remembered a very simple recipe that I saw recently, a very easy recipe for
Chocolate Fudge
candies that anyone can make. Seriously,
anyone
! All you need is a
microwave
(to melt the ingredients but i reckon the good old stove will do as well) and a
fridge
(to chill the fudge until it is set). Oh, and of course, the
ingredients
too but they are really simple ingredients.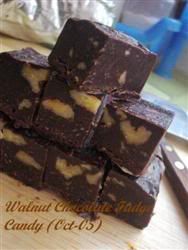 I am sure that you will
not
regret using the
best quality chocolate
that you can in making this fudge candy but all I had at that time was a
plain, no-frill cooking chocolate bar
in the fridge. So in order to make the taste similar to a rich dark chocolate, I added in some instant espresso coffee powder. And it really did the trick,
or almost...
(what could I say, can anything substitute for say, a bar of
Godiva
chocolate?)
Click on title for link to recipe.