These indeed are 2 of my favourite meals;
Popiah
and
Pumpkin Kueh
.
I just love
fresh popiah
to the point that I wouldn't mind having it everyday as meals. Usually, it
consists
of
fresh lettuce, shredded fried eggs, bean sprouts, "

pang kuan chai

"
(
a kind of vege stew made from shredded carrots and turnips, my mom makes a real mean one),

topped with crushed peanuts with a dash of chilli and sweet sauce and lastly, wrapped in a thin popiah skin
(
a thin egg-based flour wrapper
), it is simply delicious! I could just go on and on about the many kinds of popiah that I've tried and liked. But to cut the story short, my SIL prepared DIY popiah for dinner today much to my delight. Here's a picture of the sliced popiah: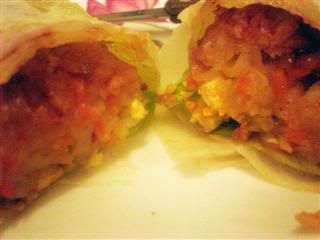 This is how the
"
pang kuan" vegetable stew
looks like: (
This one is prepared by my SIL)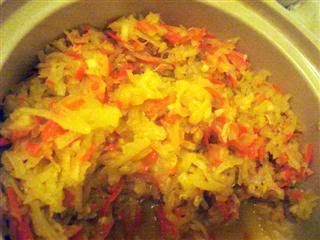 And
pumpkins
, I don't think there is any pumpkin dish that I don't like. Anyhow, this
Pumpkin Kueh
is made by yours truly. This is an "easier" version, whereby instead of steaming and mashing the pumpkin, you just shred and pan-fry them with the rest of the condiments
(dried shrimps, dried chinese mushrooms, dried chinese sausages
) before pouring in the flour mixture and steaming it for an hour.
Once cooled, you slice and serve it with some chilli paste,
sambal
and/or sweet sauce.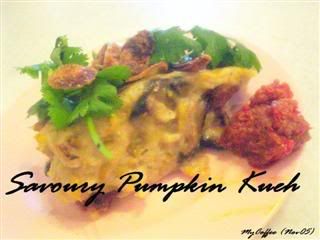 I find this version a bit too "wet". I think I would prefer a firmer bite with more pumpkin. So next time, no more short-cut for me when preparing this dish.