Recently went on a day-trip to Melaka. Well, it was more like a "makan" trip. I will post the delicious-looking pictures from this trip
soon
.
Anyway, while I was there, I bought some premium gula melaka (palm sugar blocks) from this little shop. I saw a patron buying a kilo of it and thought that I should get some too. They were the most fragrant-smelling gula melaka that I have ever come across. And what better way to utilize it than to use it to make some
Thick "Gula Melaka" Kaya
(Palm Sugar Egg Custard Spread).
One of my all-time favourite snacks is "roti bakar" or warm toasts spread with kaya and butter. With a good cup of rich coffee, it is simply delicious.
Seen here with some home-made honey wholemeal toast.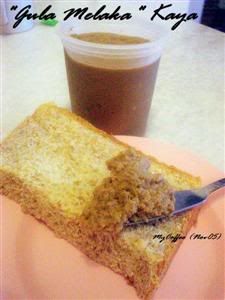 And to accompany it were some
egg-tarts
although they were mostly for the kids at home who love it. This is another favourite recipe of mine.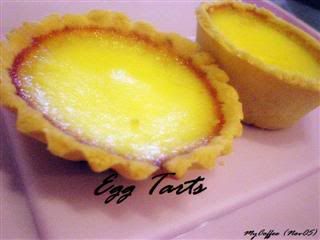 Recipe for Gula Melaka Kaya is based on this.
Recipe for Egg Tarts here .