Decided to go healthy today and bake something that taste good yet healthy and low-calorie. Too much baking of calorie-laden stuff is finally taking a toll on me. :-p
Oats!
Oats are good, and particularly good for me who by "genetic default", have high-cholesterol. I like this recipe for
Scottish Oatcakes
taken from
Alex Goh's Bread recipe book
. Consisting mainly of oats with low sugar content (
although original recipe has no sugar)
and minimal trace of oil, it looks ideal as health food. And it also looks like it could keep for quite a while, making it convenient to bring to the office. Most importantly, it wasn't tough to make and it taste rather good too! Would definitely make this again.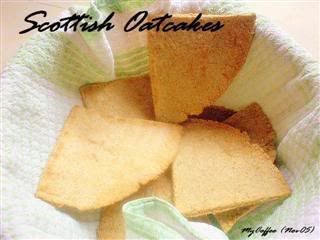 And for the family, I baked this
Honey Oatmeal Twist
. Although no egg was used, this bread remained soft the next day. When it was just out from the oven, the skin was flaky and crispy. This bread has a subtle sweetness, slightly scented with cinnamon.
Very nice....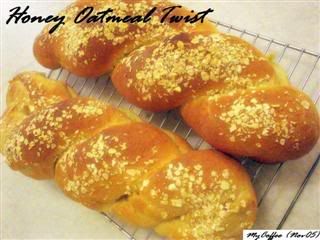 I like it so much that I took many pictures of it.
Here it is again
.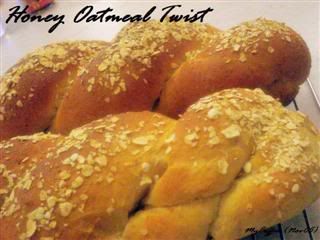 And again...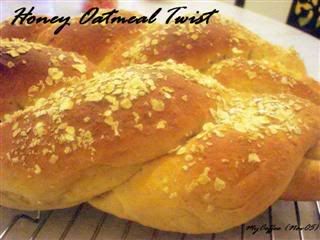 Click on title for link to recipe for this bread.