Continuing from my previous post on BBM3...
It was exciting to participate in my first "BBM" or "Blogging By Mail" event. The theme for
BBM3
is "
Home For The Holidays
". I had a great time in preparing my package to be sent to
my partner in Southern California
. It was equally as exciting to receive a package from my "secret santa",
Niki
who hails from Australia
(co-incidentally, I spent my university days there and I love the country to bits
).
Opening Niki's package was like opening my first ever Christmas present; not to mention that it brought back many wonderful memories of my stay in Sydney as an university student. Niki did an outstanding job in preparing this fantastic package to me. Here's what it contained: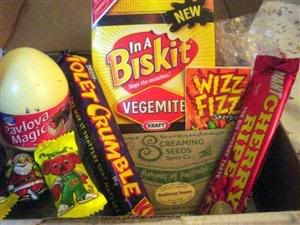 Vegemite-In-A-Biskit Biscuits
During my university days in Sydney, my flat-mate was obsessed with this strange and mysterious Vegemite that almost every Australian that I know seems to be crazy about. I wasn't so keen then. But I love "
Chicken-In-A-Biskit"
so I already knew that this wouldn't be bad. It was
far
from bad,
almost
enough to convert me to become a
Vegemite
fan.
Bountiful Chocolates
Niki must have a sixth sense. I LOVE
VIOLET CRUMBLE
! Used to gorge on this almost every other day while studying in Sydney. And Niki was kind enough to include a large bar of this
(*grin*)
together with another large bar of
Cherry Ripe
chocolate bar. In addition, there are also some
Caramello Koala
chocolate treats, a
mini Santa
Claus
chocolate made by
Melbourne's Ernest Hillier Chocolates
as well as
Wizz Fizz Sherbert
for the kids at home (my nephews and niece). I am so touched by this generous gesture.
A packet of
dried spice mix
of Australian native herbs and spices such as Dorrigo Pepper among others. I will definitely post my experiment in using this.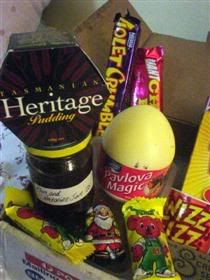 Australian-themed

Christmas Pudding by Heritage

that has unique Australian ingredients such as Tasmanian Leatherwood honey and lemon myrtle. Although dying to try it, I shall save this till Christmas to make it even more special.
Pavlova Magic Instant-Dessert Mix
This comes in the cutest egg-shell packaging. The instructions sound simple enough for an amateur baker like myself. Another great dessert idea for Christmas. Do stay tuned for how this turns out soon!
Plum & Nectarine Jam
Not forgetting also a jar of home-made Plum & Nectarine Jam made with fruits from Niki's grandmother's very own orchard. I wasted no time in tasting it
this morning for breakfast
and it was every bit as good as I expected it to be. Thanks so much!
Home-Baked ANZAC Cookies
Upon opening the package, I could already smell something delicious with hints of warm spices. And I was right. I was delighted to discover a box of the most delicious ANZAC cookies that I have ever come across. I first tasted these during (surprise!surprise!) my uni days in Sydney and remembered them as being chewy and delicious, but certainly not as delicious as these ones by Niki. And furthermore, there's a
great history
behind these cookies too!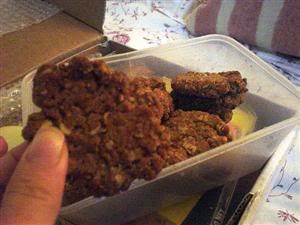 In addition, Niki also shared with me how a typical Christmas Day is like for her and her family
(I was almost salivating from reading descriptions of all the food being served on that day).
Also included is a recipe for
Orange, Cardamom & Brandy Biscuits
(her gift cookies of choice for this year's Christmas) and a sweet Christmas card (
my first for this year
). I enjoyed reading every word of her letter too
(Niki, don't worry about not hand-writing it, I didn't hand-write mine too
…).
Wait..! There's more to this almost bottomless treasure chest. Included is a copy of a newpaper pull-out on food & wine from her local daily,
The Age
and also a copy of
Donna Hay magazine
. Hurray! My first copy of DH magazine. I have heard and read so much about DH and I will surely enjoy pondering over every article and recipe in this magazine.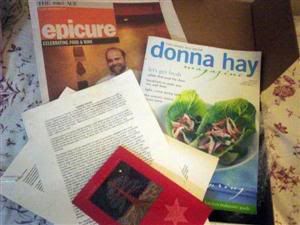 I hope you can guess by now that I have become an extremely HAPPY person. And I am sure the glee from opening this wonderful package would last me through to the
next
BBM event.
And thank you so much Niki, for bringing so much joy to me! ;-)
Note
: Click on title for link to the round-up of BBM3