* Healthy* Low-Fat* Easy* Quick* Great-tasting!
With the above descriptions of
this recipe
that I saw recently, I don't need further reasons to try my hands in baking this. And since I have a packet of frozen dried cranberries on hand, and in line with this weekend's theme on
"healthy baking
", I set about making this quick bread.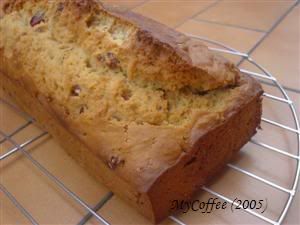 It was indeed fast and simple to assemble everything together before popping it into the oven. I followed the recipe closely
except
for the following:
1) I didn't have buttermilk so I made my own using low-fat milk with white vinegar.
2) As mentioned earlier, I used frozen cranberries instead of fresh ones.
3) Unknowingly, I managed to amassed quite a variety of sugars. Since the recipe calls for 1/2 cup of white sugar and 1/2 cup of brown sugar, I used 1/4c each of
white sugar, brown sugar, demerara sugar and organic molasses sugar
, hence the
title
of this post.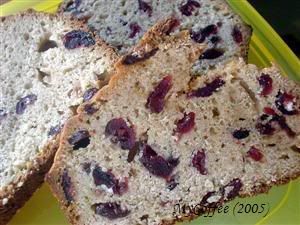 I like the bread. It is just like as described by
Nic of BakingSheet
, I quote,
"The bread is a bit sturdy and holds up well to toasting. It's not overly sweet, but provides a great backdrop for the bright, tart cranberries. The spices are mild, to enhance the flavor of the berries and the buttermilk without overwhelming the loaf."
Having said that, I found that bread tasted even better after keeping it wrapped for a day.