There's another
birthday
in the family today. This time it's my
SIL
's big day. And how could I miss an opportunity to embark yet on another baking adventure. It's not often that I get to bake a real cake fit for a birthday. Hence, I am still relatively inexperienced in baking iced/frosted whole cakes. Practice makes perfect after all, if only I have the opportunity to practice more often.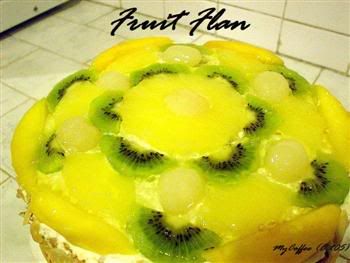 Today's pick is a
Triple-Layered Fruit Flan Cake
. This is actually
Plan B
.
Plan A
was to bake a
Mocha Hazelnut Cake
. However, SIL woke up with a sore throat. I asked her casually whether would she prefer a more subtle and mellow cake, and she said "Yes, a fruit-based cake would be nice."
Err
, I have to admit that I had a very slight panic attack then. I was all geared up to bake
Plan A
, not expecting there to be any change at the last minute. But never fear, thanks to my baking resources both on the net as well as my growing collection of recipe books, I quickly browsed for a
Fruit Flan Cake
recipe that does not look too difficult.
Everything was going well up until when I began preparing the frosting. Somehow I always had problem before when preparing custard. This time it happened again. The recipe says to fold 1/3 of the prepared whipped cream into the custard solution. I did and I have no idea if the mixed solution was supposed to look the way it did. The whipped cream floated to the top while the lower half was pure liquid. How am I supposed to smear the custard part onto the cake? And the recipe has no mention of chilling the custard (
although I tried but it didn't help much and I was in a hurry)
. In the end, I sandwiched the cake with a layer of whipped cream, a layer of custard (
I took the bits that are semi-firm
) and chopped
longan
fruits. By this time, I didn't have quite enough whipped cream to frost the entire outer layers of the cake. All I managed was a thin layer of frosting and enough fruits and nut to camouflage the insufficiency.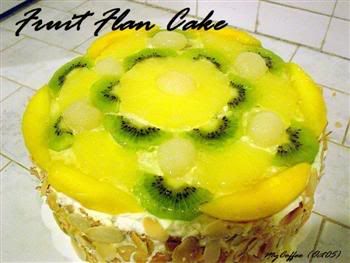 *Whew*,
the end result was at least, still presentable. Taste was ok although I would prefer more whipped cream in between layers.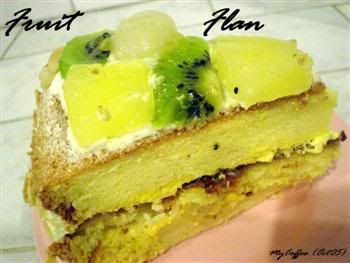 Post-result: I tasted this cake the next day and I do think it tasted even better. Maybe I should have make this a day earlier.