What a boring Saturday evening. It's raining cats & dogs outside. Seriously, what a heavy downpour. It's as if somebody is pouring buckets of water, one after another. *Sigh* Looks like I won't be able to go anywhere for a while. So what's the cure for a miserable Saturday evening?
Chocolates
, of course!
So I set about baking
not one, but two
chocolate treats, just in case I need a
double-dose
to douse my dampening moods. Here's what I picked: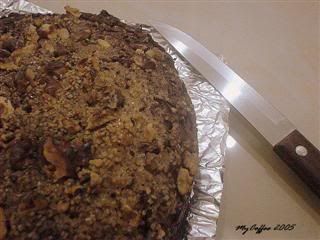 Chocolate & Zucchini Cake
(courtesy of none other than Clotilde of "Chocolate of Zucchini")
Ah, what an
ingenious combination
. I love chocolates and zucchini is one of my favourite vege (
seriously!
). In addiditon to being "not really fattening", I changed the recipe to include some of my favouite ingredients such as
demerara sugar, organic molasses sugar, Japanese cucumber

(much more economical than zucchini at this point of time

) and semi-sweet Belgian chocolate chunks
.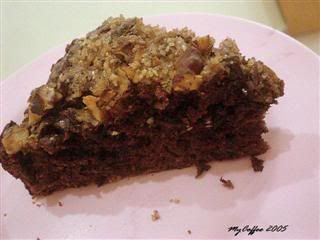 The end result? Maybe it's due to the changes that I made to the recipe but I would say that this is an "adult" cake. Being slightly bitter-sweet, my nephew took one bite of it and complained that it was too bitter. But I think I like it this way. And I think the cake is complex in a way. The taste takes a while to develope and it grows on you. I reckon that not everyone would agree to the taste of this cake;
not me
though.
Double Chocolate Chip Mint Cookies
I wanted to use my new
EXOPAT
baking mat and I also wanted to try this particular recipe for crunchy chocolate chip cookies. I thought since I was at it, why not make it a
double chocolate chip & mint cookies
, in honour of my
new-found favourite chocolate chip cookies
. Unfortunately, the thing that usually happens when I bake cookies happened again. The cookies browned too fast (
either that or my oven temperature was way off
) resulting in some burnt bits. One minute, the was a delicious aroma coming out from my kitchen and the next, whiffs of burnt food interlaced with the delicious aroma! Luckily, I managed to savage the cookies although it meant performing some "plastic surgery" (
i.e., scrapping off the burnt bits at the bottom
). And the cookies? They were
dark
,
chocolatey, minty
and
crunchy.
Nice but not quite close to my favourite though...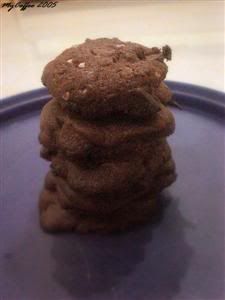 Oh well, at least my Saturday evening is turning to be not quite as dreary as I feared it would be.