Wanna make something to good to eat but don't want much hassle? No worries, here are 2 really easy recipes (ingredients for each not exceeding 3), courtesy of
Kitchen Capers forum
.
1) Prata Sausage Roll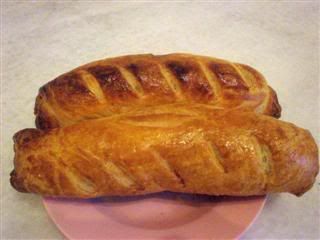 All you need are
frozen prata (roti canai) sheets
(
available at any supermarket or mini-mart
) and
sausages

.
Thaw the frozen prata for a couple of minutes (
but not completely
) or until you find that it is easy to roll the sheets without breaking. Place a sausage on it and roll it up. Slash the top a few times with a knife. Then brush the top with some egg wash. Bake in pre-heated oven at 170-180c for 40-45 minutes.
This sausage rolls are really
crispy
, like a croissant. It loses its crispiness the next day so you may wish to toast it for a while in your toaster-oven, if you still have leftovers the next day.
2) Easy Garlic Toast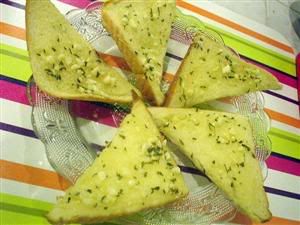 My nephew Amos
, was browsing through my favourite bread recipe book by
Alex Goh
. He saw the Garlic Bread recipe and asked me when am I going to bake some. It was too late to start from scratch (
the recipe uses french baguette, recipe provided of course)
so what I did was to slice some
sandwich bread,
spread the sliced bread with some prepared
garlic butter
(
mix some softened salted butter with some finely crushed and chopped garlic and some dried parsley flakes)
toast them and voila!, instant

Garlic Toasts

.