Quick and easy tea-time treats for the
little ones
at home. Each of them can be done in no time and is "
yummy-licious
".
Sausage Bread Tart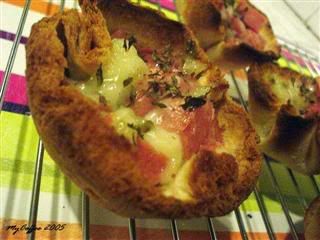 Use day-old bread (

those with skins work better, e.g., top and bottom slice

). Roll them flat. Put a rice bowl on it and cut away the edges. Roll them flat again if necessary. Butter a muffin pan. Stuff the bread into the muffin pan so that it resembles a cup/tart. Bake in oven on moderate temperature for about 10 minutes or lightly browned. Remove from oven and butter the inside of the bread/tart. Mix some sliced sausages with mayonaise or sandwich spread and some dried parsley flakes. Add some into each tart. Re-bake them for another 5 minutes. Remove individual tarts from pan and trim away dark edges if necessary.
Microwave Potato Chips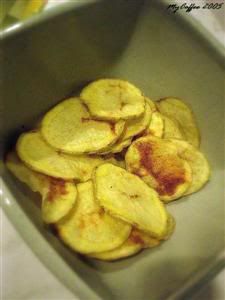 Good and fat-free. The little ones gave their thumbs-up too! So much more healthier than regular french fries.
Spray a casserole dish with some non-fat cooking spray. Slice potato thinly (unpeeled) and arrange them on the dish. Microwave them on HIGH for about 8-10 minutes or until they turn crispy. Check to make sure that they are not burned though. Toss with a little salt, coarse black pepper and dried parsley. Serve. You can substitute with sweet potato if wished.
Click on titles for link to original recipes.