I have been overly indulging in too much rich food lately. To spare myself any further guilt trip, I decided to go healthy this weekend by making
not-so-sinful
stuff.
So today, it's just plain but good ol'
Tau Suan tongshui
(
Split Mung Beans Sweet Soup
). To be honest, I only had my first taste of this
tongshui
early this year. Although my mom cooks a variety of chinese
tongshui
, for some reason she had never made this before. Well, I guess I will be the first person to cook this tongshui for my family.
Being a fan of almost all non-coconut milk based
tongshui
, naturally I love this too. Best served with sliced crispy yau char kwai (chinese crullers) like in the picture below.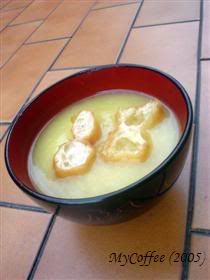 I followed
Jas' recipe here
. The only change I made was to add 2 pieces of dried mandarin peels to the soup. However, I find it slightly too sweet for my liking so I would reduce the rock sugar by about 20g to 30g next time.